Dushman ki goliyon ka hum samna karenge, Azad hi rahein hain, azad hi rahenge!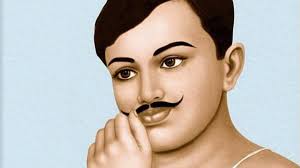 Chandra Shekhar Azad was an Indian revolutionary leader who was born on July 23, 1906. He was popularly known as Azad.
Chandra Shekhar Azad was deeply saddened by massacre of the Jallianwala Bagh which took place in 1919. It was after this incident, he decided to join the Non-Cooperation movement led by Mahatma Gandhi in 1920 . He was only 15 years old when he got arrested for the first time.
He organised the Hindustan Socialist Republican Army (HSRA) in 1924 and became very famous for the Kakori Train robbery in 1925 and the killing of Saunders in 1928.
He had vowed that he would never be arrested by the British police and kept his promise by using his last bullet to shoot himself than be arrested. He died on 27 February 1931 at Azad Park in Allahabad while fighting with the police.